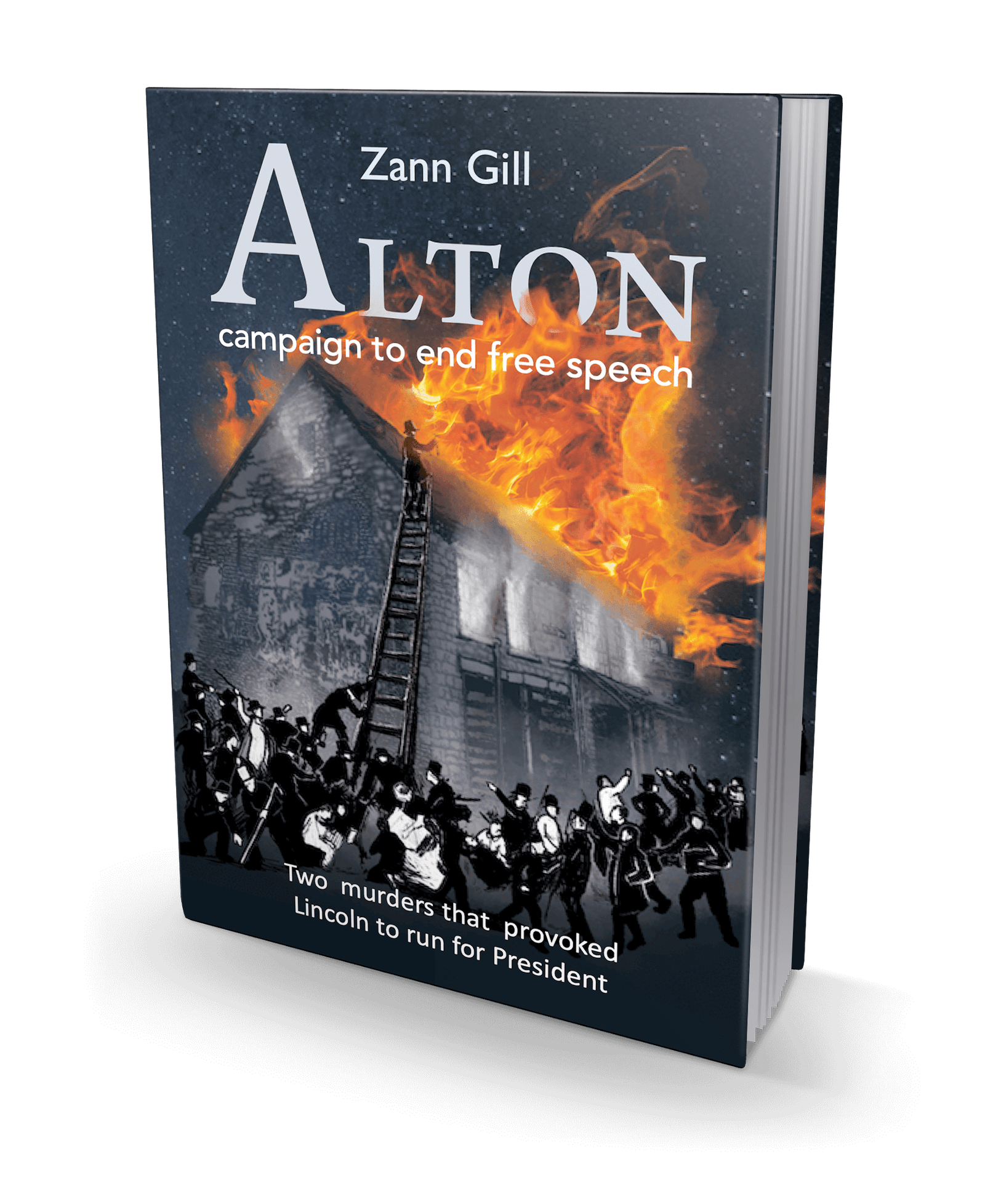 ALTON – campaign to end free speech by Zann Gill focuses on the significance of the 185th anniversary of Abraham Lincoln's first landmark speech (at age 28), which launched his twenty-year path to the Senate and Presidency. Lincoln gave his Lyceum speech on January 27, 1838, shortly after the murder of abolitionist Editor of the Alton Observer Elijah Parish Lovejoy. Congressman Jamie Raskin cited the mob murder of Lovejoy as similar to the January 6, 2021 Attack on the Capitol, noting that Lincoln's warning has a profound message for our nation today.
Author Zann Gill dedicated ALTON to the memory of her father John Glanville Gill, who did the original research for his Harvard Ph.D. thesis, which transformed him from an academic into a civil rights activist. He studied how slaveholding profiteers manipulated a crowd to commit this mob murder. ALTON raises questions about human nature that we should revisit today.
Zann Gill, after earning a graduate degree at Harvard, where she studied with Buckminster Fuller, was inspired by his WORLD GAME for complex systems problem-solving: climate change, ocean pollution, social justice. She then worked as a Research Scientist at NASA developing collaboratory concepts. Her aha! moment came when she realized that complex systems problem-solving, which World Game aspired to enable, can most effectively start from story-telling.
Two murders launched Lincoln's rise to the Presidency
Two murders launched Lincoln's rise to the Presidency: Francis McIntosh (1836) and Elijah Parish Lovejoy (1837). When Elijah Parish Lovejoy deplored the murder of Francis McIntosh and called for a fair trial, he was forced to move from St. Louis, Missouri (a slave state) across the Mississippi River to Alton, Illinois (a free state). He took his newspaper with him, changing its name from the St. Louis Observer to the Alton Observer. But the slaveholding profiteers followed him, determined to make him their scapegoat to frighten anyone who spoke out for the abolition of slavery.
In the 1830s, slaves escaped from Missouri, risking their lives to ford the Mississippi River to Illinois, where they thought they would be free. A Missouri slave owner paid off an Illinois lawyer to pressure local residents to return his escaped slaves, manipulate the media, contrive a business downturn in Alton, and blame economic recession on all those who wanted to abolish slavery.
The villain in ALTON, a paid pro-slavery lobbyist, handed Elijah Parish Lovejoy, Editor of The Alton Observer, a devil's ultimatum: "Sacrifice your values. Give up your commitment to free speech. Abandon your newspaper and leave Alton. Or stay. . . and you'll be murdered." When Lovejoy refused to sacrifice his values, a frenzied mob of white men feigned respectability by dressing up in top hats and swallow tail coats to murder him. This murder in Illinois, Abraham Lincoln's home state, awakened the nation to the evil of slavery.
Former President John Quincy Adams said, "This struggle belongs in the annals of human liberty." Former President Herbert Hoover added, "Since Lovejoy's martyrdom, no man has openly challenged free speech and the free press in America."